Athos Patsalides, M.D.
Neurological Surgery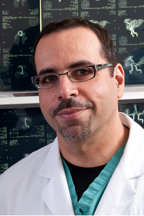 My main goal is to provide exceptional patient care in the diagnosis and treatment of complex diseases of the brain and spine. As part of a team of experts in Neurosurgery, Neurology, Neuroradiology and Neurological Critical Care, I work diligently to provide state-of-the art treatment in one of the premier academic institutions of the country. I believe in helping my patients understand their disease and the available treatment options so that they will be able to take control of their own health
Dr. Patsalides is an Interventional Neuroradiologist in the Department of Neurological Surgery at NewYork-Presbyterian Hospital/Weill Cornell Medical College. He is Assistant Professor of Radiology in Neurological Surgery, and the Alvina and Willis Murphy Assistant Professor of Neurological Surgery at Weill Cornell Medical College.
Dr. Patsalides received his Medical Degree from the University of Athens, Greece and a Master of Public Health degree from Johns Hopkins University. After completing his medical studies, he received a scholarship from the John E. Fogarty International Center for Advanced Study in the Health Sciences and moved to the United States to conduct research at the National Institutes of Health. He completed his training at Georgetown University in Washington, D.C. and Weill Cornell Medical College in New York City. He is the recipient of multiple national awards from the Radiological Society of North America, the American Society of Neuroradiology, and the Society of Neurointerventional Surgery. Dr. Patsalides is a diplomat of the American Board of Radiology and a senior member of the Society of Neurointerventional Surgery and the American Society of Neuroradiology. He is also member of national committees of the Society of Neurointerventional Surgery and the American College of Radiology.
Dr. Patsalides is expert in the treatment of vascular diseases of the brain and spine and carotid stenosis. He has published extensively on the treatment of brain aneurysms, brain and spine vascular malformations and stroke and has given lectures and presentations in multiple national and international meetings and courses. He is also expert in minimally invasive procedures for spinal compression fractures (kyphoplasty, vertebroplasty) for patients with osteoporosis, multiple myeloma and spinal tumors. Dr. Patsalides' clinical research interests include the development of new intra-arterial chemotherapy treatments for spinal, and head and neck tumors and novel minimally invasive treatments for spinal tumors. He is leading two FDA approved clinical trials, one for intra-arterial chemotherapy for spinal tumors and the other for the treatment of Idiopathic Intracranial Hypertension (pseudotumor cerebri) using angioplasty and stenting.
~~~
Dr. Patsalides sees patients at our upper east side offices, our lower Manhattan office, and in our new Astoria, Queens, office. Please confirm the location of your appointment with your patient coordinator by calling 212-746-2821.
~~~
More about:
The Weill Cornell Brain and Spine Center