Adriana Rossi, M.D.
Hematology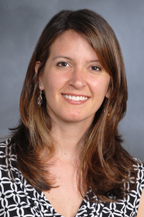 Adriana Rossi, M.D., is an Assistant Professor of Medicine at Weill Cornell Medical College and Assistant Attending Physician at the NewYork-Presbyterian Hospital.
After graduating from the University of Michigan with a B.S. in cellular and molecular biology, Dr. Rossi obtained a Master of Health Science from Johns Hopkins University in 2002. Starting out as a bench researcher, she worked at several top rated laboratories gaining valuable research skills. Following her experience in the planning and implementing of laboratory based research projects, she obtained her M.D. from George Washington University in 2007. She completed her residency in Internal Medicine at Thomas Jefferson University Hospital in 2010, followed by a three-year fellowship in Hematology/Oncology at Weill Cornell Medical College/the New York-Presbyterian Hospital. Upon completion of her fellowship, she was recruited to a faculty position in support of the Division's Myeloma Program.
Dr. Rossi works with Drs. Ruben Niesvizky, Tomer Mark, Roger Pearse, as well as other faculty members in Hematological Malignancies to develop sponsored clinical and translational research activities and to foster growth and development of the Myeloma Program. She is developing research projects pertaining to measurement of minimal residual disease, and focuses on novel approaches for relapsed and refractory myeloma including new drug development. She also works in support of the myeloma autologous stem cell transplant program under the guidance of Drs. Tomer Mark and Koen van Besien.