Anthony Pho, NP
Internal Medicine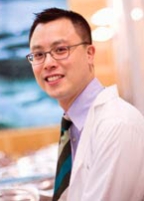 Why I went into medicine?
As an ER nurse I worked with many patients in acute distress. While this was gratifying, I often wished I had the opportunity to help manage chronic health problems earlier. As a nurse practitioner, I enjoy working in internal medicine because I have more time to get to know and work with patients to promote their health.

My philosophy approach to medicine?
I enjoy the diversity of my patients that come from all walks of life. I take time to listen to patients and I love to answer questions. I want patients to understand their care and how to maximize their lives. I like finding solutions for my patients that are simple, practical and cost-effective.
Anthony Pho is a graduate of the University of California at Berkeley. He completed a Bachelor and Master of Science in Nursing at the Johns Hopkins University School of Nursing and a Master of Public Health at the Johns Hopkins University Bloomberg School of Public Health. He has worked as an ER nurse, taught as a clinical instructor, and was a research assistant for the CAPABLE trial, an NIH-funded home-based intervention for decreasing disability in low-income older adults.
Mr. Pho holds a personal interest in global health. He has been to Haiti four times including a post-earthquake deployment to the USNS Comfort hospital ship. Most recently Mr. Pho worked as a consultant in Tanzania for the Abbott Fund, where he developed a nursing training curriculum for the country's first emergency medicine residency program.
At Weill Cornell Internal Medicine Associates (WCIMA), Mr. Pho is a nurse practitioner for the Green practice. He also contributes to the internal medicine residency curriculum, teaching seminars on health disparities, including the care of Lesbian Gay Bisexual & Transgendered (LGBT) individuals.