Andy Huang, M.D.
Hematology/Oncology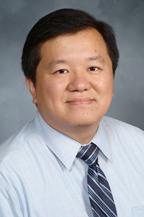 We are most vulnerable when we are sick and this is particularly true with our hematology and oncology patients. As an oncologist, I strive to not only provide the best medical care to my patients, but also to do it with compassion and empathy. As a native New Yorker, I have particularly enjoyed serving the diverse patient population of lower Manhattan. With the support of NYP/Weill Cornell, we are able to bring excellent hematology and cancer care into our communities.
Andy Y. Huang, MD is an Assistant Professor of Medicine at Weill Cornell Medical College and an Assistant Attending Physician at New York-Presbyterian/Weill Cornell Medical Center. His practice at New York Presbyterian Lower Manhattan Hospital offers excellent quality care at a convenient location to patients.
Dr. Huang is board-certified in hematology, medical oncology and internal medicine. His expertise includes anemia, lymphoma, breast cancer, lung cancer, stomach cancer and colon cancer. In his practice at New York Presbyterian Lower Manhattan Hospital, Dr. Huang provides his patients with the latest cutting edge treatments with a comprehensive multi-disciplinary approach. Services provided at the infusion center include chemotherapy, targeted therapy, immunotherapy, therapeutic phlebotomy and blood product transfusions. Consultations with surgical oncologists and radiation oncologists are available.
Dr. Huang graduated cum laude from New York University with a major in chemistry and a minor in physics. He graduated from New York University School of Medicine in 2000 and completed his internal medicine residency at Albert Einstein School of Medicine. Dr. Huang completed his fellowship training in hematology and medical oncology at New York University School of Medicine in 2006. Dr. Huang's extensive basic science research in immunology and clinical research in gastric cancer resulted in multiple publications. Dr. Huang is a member of American Society of Clinical Oncology and American Society of Hematology. Dr. Huang enjoys teaching medical students, residents and fellows. He is fluent in Mandarin and Cantonese. He has office hours Monday to Friday.