Alan Groves, M.D., MBChB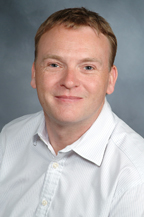 I am committed to providing the very best care for all newborn infants, giving them the opportunity to have happy, healthy lives. As the very high standard of care that we are able to deliver today is rooted in research advances, I am also committed to learning from our current generation of infants so that tomorrow's babies can benefit from yet greater understanding of the science of newborn care.
Dr Groves is an Assistant Professor of Pediatrics at Weill Cornell Medical Medical College and an Attending Pediatrician at the New York-Presbyterian Phyllis and David Komansky Center for Children's Health/Weill Cornell Medical Center.

He received his medical degree from the University of Edinburgh (1996) and undertook postgraduate pediatric training in the UK in Edinburgh, Liverpool and Newcastle. He then spent two years completing a research degree in neonatal echocardiography at the University of Auckland, New Zealand, before returning to the UK to complete specialist training in neonatal medicine at St Mary's and Queen Charlotte's and Chelsea Hospitals in London.

After completing his training, Dr Groves worked as an attending consultant in Neonatal Medicine at Queen Charlotte's and Chelsea Hospital, before being awarded an MRC Clinician Scientist Fellowship (2008-2012) to develop cardiac magnetic resonance imaging and advanced ultrasound techniques in newborns with Imperial College. In 2012 he moved to King's College London as part of Professor David Edwards' Department of Perinatal Imaging, where he was appointed Head of Cardiovascular Imaging.

His research training and subsequent research has been related to identifying optimal methods to monitor circulatory function in newborn infants, with a particular focus on magnetic resonance imaging (MRI) and echocardiography.