Nathan M. Radcliffe, M.D.
Ophthalmology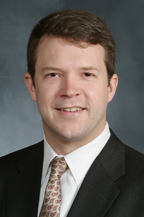 I am an ophthalmologist specializing in the care of patients with glaucoma. My primary goal is not only to provide state-of-the-art medical and surgical glaucoma care, but also to help guide my patients through the difficult and often confusing process of understanding glaucoma. A diagnosis of glaucoma, possible glaucoma, or even worsening glaucoma can be very anxiety-provoking for patients. However, I believe that by allowing my patients to understand their glaucoma process, most of the anxiety can be relieved. Furthermore, we can make decisions together that take into account each patient's lifestyle and needs. Conditions that I commonly treat include:


- Glaucoma
- Glaucoma Suspect
- Narrow Angle
- Angle Closure Glaucoma
- Open Angle Glaucoma
- Low Tension Glaucoma
- Cataract
Nathan Radcliffe, M.D. is an ophthalmologist who specializes in medical and surgical glaucoma. Dr. Radcliffe grew up in the state of Maine and completed his undergraduate studies at Colby College in Waterville, Maine. He graduated with honors from Temple University School of Medicine in 2003 and then completed his internship at the University of Hawaii in Honolulu in 2004. He completed his ophthalmology residency at New York University and Manhattan Eye, Ear and Throat Hospital and received fellowship training in glaucoma at the New York Eye and Ear Infirmary.
Dr. Radcliffe has distinguished himself at every level of his training. During medical school, he was elected to the Alpha Omega Alpha honors medical society. During his internship in Hawaii, he was awarded the "Transitional Resident of the Year" award. He went on to become chief resident at New York University and even served as the Chief Fellow during his glaucoma fellowship at the New York Eye and Ear Infirmary and New York University.
Dr. Radcliffe is a dedicated teacher and researcher who is involved in numerous research projects related to the care of glaucoma patients. He has published articles and book chapters that span the literature from ophthalmic text books and scientific journals to patient education materials. Dr. Radcliffe's research efforts have earned him grants from the America Glaucoma Society and The American Society of Cataract and Refractive Surgery.
In July of 2008, Dr. Radcliffe joined the faculty of Weill Cornell Medical College and New York Hospital as Assistant Professor of Ophthalmology, where he cares for patients with glaucoma and other eye diseases.
Dr. Radcliffe is a regular contributor to Glaucoma Today and has been featured in EyeTube.net's series, The Glaucoma Files.
He lives in New York City with his wife Lauren and children Jane and Henry. Dr. Radcliffe is currently accepting new patients. Appointments can be made by calling 646-962-2020, or by visiting http://www.weillcornelleye.org/.
» Minimally Invasive Glaucoma Surgery (MIGS)
Dr. Radcliffe's Perspective, "What Does MIGS Mean to Me?" in Glaucoma Today:
Patients' expectations have risen for all fields of medicine. In an era when hospitals solicit patients through radio and television advertisements that allude not just to curative cancer treatments but also to symptom-free cures, it is not surprising that patients may expect symptom-free glaucoma treatment. Are standard glaucoma surgeries able to provide the outcomes they expect? Thirty-four to 36% of patients in the Tube Versus Trabeculectomy (TVT) Study suffered serious (although often reversible) complications, and 18% to 22% required an additional surgical procedure. Traditional glaucoma surgeries, therefore, probably are not meeting the expectations of glaucoma patients or their surgeons.3,4
For patients who are highly likely to suffer serious vision loss from glaucoma, the risks of a tube's implantation or a trabeculectomy may be acceptable, because patients in the TVT Study achieved roughly a 50% reduction in IOP.3 What about patients who do not possess such a high likelihood of blindness but are still at risk? MIGS represents an effort to better balance the drawbacks and rewards of glaucoma surgery for the large number of patients with mild or moderate glaucoma whose level of risk requires a more favorable safety profile. In my mind, therefore, MIGS is defined not by the size of the incision but by its safety profile, and any safe surgery that meets patients' and surgeons' goals for efficacy is welcome into the MIGS family.
Minimally invasive glaucoma surgery being offered at Weill-Cornell/New York Presbyterian Hospital.

For patients with glaucoma, elevated intraocular pressure can, over time, result in vision loss. Fortunately, for many patients with glaucoma, the daily use of eyedrops will slow or stop the disease. Traditional glaucoma surgeries including trabeculectomy and tube shunt procedures are typically reserved for patients who are at risk of severe vision loss from glaucoma.

However, the daily administration of eye drops can lead to side effects in some patients, and many glaucoma patients would prefer not to take eye drops.

Recently a new type of glaucoma surgery called minimally invasive glaucoma surgery (MIGS) has become available for glaucoma patients. These MIGS procedures are typically performed at the time of cataract surgery and increase the length of the cataract surgery by just a small amount. Importantly, MIGS procedures do not significantly change the overall (favorable) safety profile of cataract surgery, but can result in additional benefits to patients with glaucoma, including lower intraocular pressure and the need for fewer (or no) glaucoma medications.

While MIGS are not indicated or appropriate for every glaucoma patient, these safer surgeries are a welcomed new treatment option for our glaucoma patients. Dr. Radcliffe currently performs MIGS procedures, including the recently FDA-approved iStent.