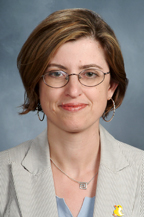 Voted one of New York's Best Doctors, 2014
Dr. Maria Vogiatzi is Chief of Pediatric Endocrinology and an Associate Attending Pediatrician at NewYork-Presbyterian Hospital. She is also Associate Professor of Clinical Pediatrics at Weill Cornell Medical College. She is board certified in both Pediatrics and Pediatric Endocrinology.
Dr. Vogiatzi is an active clinical pediatric endocrinologist who cares for children and adolescents with various endocrine problems. She has great experience in the treatment of children with short stature who may require therapy with growth hormone, in thyroid disorders, and in the management of patients with disorders of puberty (i.e. premature or delayed puberty, menstrual irregularities, and syndromes associated with androgene excess in females, such as congenital adrenal hyperplasia). She has a particular interest in the study of bone diseases in children including rickets, osteoporosis and fibrous dysplasia.
Dr. Vogiatzi received her medical degree (M.D.) at Aristotelian University in Thessaloniki, Greece in 1987. She completed her residency in pediatrics at the State University of New York Health Science Center in Brooklyn, NY in 1991. Following residency, Dr. Vogiatzi undertook fellowships in Pediatric Endocrinology at NewYork-Presbyterian Hospital/Weill Cornell Medical Center and at Baylor College of Medicine in Houston, Texas. In 1997, She joined the department of Pediatrics at Weill Cornell Medical College.
Dr. Vogiatzi is active in clinical research in the areas of growth, congenital adrenal hyperplasia (CAH) and osteoporosis. She has published on numerous topics in Pediatric Endocrinology.
Insurances
Insurance Plans Accepted
The following represents most of the managed care plans accepted by this physician. If your insurance carrier does not appear here please contact the physician's office as they may have individual contracts not included on this site.

* indicates this physician is no longer accepting new patients with this insurance plan.
AETNA

[PPO]

AETNA

[Medicare]

AETNA

[HMO]

Aetna - Weill Cornell

[POS]

Affinity Essential
Affinity Health Plan
Blue Priority Network
CIGNA
Emblem Select Care
Empire Blue Cross/Blue Shield

[EPO]

Empire Blue Cross/Blue Shield

[Pathway X Enhanced]

Empire Blue Cross/Blue Shield

[PPO]

Empire Blue Cross/Blue Shield

[Pathway X]

Empire Blue Cross/Blue Shield

[HMO]

Empire Blue Cross/Blue Shield

[Mediblue (Senior)]

Fidelis Care
Health First
Health Insurance Plan of NY (HIP)

[Medicare]

Health Insurance Plan of NY (HIP)

[Medicaid]

Health Insurance Plan of NY (HIP)
Health Plus - Amerigroup

[CHP]

Health Plus - Amerigroup
Health Republic
Medicaid
Medicare
Oscar
Oxford Health Plans

[Medicare Advantage]

Oxford Health Plans

[Liberty]

Oxford Health Plans

[Freedom]

POMCO
Rockefeller University - CoreSource
UHC Compass
United Empire
United Health Care

[Medicare]

United Health Care

[Community Plan]

United Health Care
VNSNY CHOICE Medicare

[HMO]
Publications
Link to Dr. Vogiatzi's articles on PubMed
Lin-Su K, Harbison MD, Lekarev O, Vogiatzi MG, New MI. Final adult height in children with congenital adrenal hyperplasia treated with growth hormone. J Clin Endocrinol Metab. 2011 Jun;96(6):1710-7. Epub 2011 Mar 30. PubMed PMID: 21450983; PubMed Central PMCID: PMC3206397.
Quinn CT, Johnson VL, Kim HY, Trachtenberg F, Vogiatzi MG, Kwiatkowski JL, Neufeld EJ, Fung E, Oliveri N, Kirby M, Giardina PJ; Thalassemia Clinical Research Network. Renal dysfunction in patients with thalassaemia. Br J Haematol. 2011 Apr;153(1):111-7. doi: 10.1111/j.1365-2141.2010.08477.x. Epub 2011 Feb 21. PubMed PMID: 21332704
Auchus RJ, Witchel SF, Leight KR, Aisenberg J, Azziz R, Bachega TA, Baker LA, Baratz AB, Baskin LS, Berenbaum SA, Breault DT, Cerame BI, Conway GS, Eugster EA, Fracassa S, Gearhart JP, Geffner ME, Harris KB, Hurwitz RS, Katz AL, Kalro BN, Lee PA, Alger Lin G, Loechner KJ, Marshall I, Merke DP, Migeon CJ, Miller WL, Nenadovich TL, Oberfield SE, Pass KA, Poppas DP, Lloyd-Puryear MA, Quigley CA, Riepe FG, Rink RC, Rivkees SA, Sandberg DE, Schaeffer TL, Schlussel RN, Schneck FX, Seely EW, Snyder D, Speiser PW, Therrell BL, Vanryzin C, Vogiatzi MG, Wajnrajch MP, White PC, Zuckerman AE. Guidelines for the Development of Comprehensive Care Centers for Congenital Adrenal Hyperplasia: Guidance from the CARES Foundation Initiative. Int J Pediatr Endocrinol. 2010;2010:275213. Epub 2011 Jan 10. PubMed PMID: 21274448; PubMed Central PMCID: PMC3025377.
Motaghedi R, Lipman EG, Hogg JE, Christos PJ, Vogiatzi MG, Angulo MA. Psychiatric adverse effects of rimonobant in adults with Prader Willi syndrome. Eur J Med Genet. 2011 Jan-Feb;54(1):14-8. Epub 2010 Oct 20. PubMed PMID: 20965292; PubMed Central PMCID: PMC3038245.
Tsay J, Yang Z, Ross FP, Cunningham-Rundles S, Lin H, Coleman R, Mayer Kuckuk P, Doty SB, Grady RW, Giardina PJ, Boskey AL, Vogiatzi MG. Bone loss caused by iron overload in a murine model: importance of oxidative stress. Blood. 2010 Oct 7;116(14):2582-9. Epub 2010 Jun 16. PubMed PMID: 20554970; PubMed Central PMCID: PMC2953890.
A. Diaz, S. Bandari, C. Sison and M.G. Vogiatzi. Characteristics of Children with Premature Adrenarche in the New York Metropolitan Area. Hormone Research; in press.
Fung EB, Xu Y, Kwiatkowski JL, Vogiatzi MG, Neufeld E, Olivieri N, Vichinsky EP, Giardina PJ; Thalassemia Clinical Research Network. Relationship between chronic transfusion therapy and body composition in subjects with thalassemia. J Pediatr. 2010 Oct;157(4):641-7, 647.e1-2. Epub 2010 Jun 12. PubMed PMID: 20547400; PubMed Central PMCID: PMC2936667.
Vogiatzi MG, Tsay J, Verdelis K, Rivella S, Grady RW, Doty S, Giardina PJ, Boskey AL. Changes in bone microarchitecture and biomechanical properties in the th3 thalassemia mouse are associated with decreased bone turnover and occur during the period of bone accrual. Calcif Tissue Int. 2010 Jun;86(6):484-94. Epub 2010 May PubMed PMID: 20449578; PubMed Central PMCID: PMC2917203.
Vogiatzi MG, Macklin EA, Trachtenberg FL, Fung EB, Cheung AM, Vichinsky E, Olivieri N, Kirby M, Kwiatkowski JL, Cunningham M, Holm IA, Fleisher M, Grady RW, Peterson CM, Giardina PJ; Thalassemia Clinical Research Network. Differences in the prevalence of growth, endocrine and vitamin D abnormalities among the various thalassaemia syndromes in North America. Br J Haematol. 2009 Sep;146(5):546-56. Epub 2009 Jul 13. PubMed PMID: 19604241; PubMed Central PMCID: PMC2798591.
Bargman R, Freedman A, Vogiatzi M, Motaghedi R. Autoimmune type I diabetes mellitus in a perinatally HIV infected patient with a well-preserved immune system. J Pediatr Endocrinol Metab. 2009 Apr;22(4):369-72. PubMed PMID: 19554812.
Quintos JB, Krotz S, Vogiatzi MG, Kralickova M, New MI. Partial hypogonadotropic hypogonadism associated with the Leu266Arg and Gln106Arg mutation of the gonadotropin-releasing hormone receptor. J Pediatr Endocrinol Metab. 2009 Feb;22(2):181-5. PubMed PMID: 19449676.
Pelavin PI, Abramson E, Pon S, Vogiatzi MG. Extended-release glipizide overdose presenting with delayed hypoglycemia and treated with subcutaneous octreotide. J Pediatr Endocrinol Metab. 2009 Feb;22(2):171-5. PubMed PMID: 19449674.
Bogunovic L, Doyle SM, Vogiatzi MG. Measurement of bone density in the pediatric population. Curr Opin Pediatr. 2009 Feb;21(1):77-82. Review. PubMed PMID: 19242243.
Vogiatzi MG, Macklin EA, Fung EB, Cheung AM, Vichinsky E, Olivieri N, Kirby M, Kwiatkowski JL, Cunningham M, Holm IA, Lane J, Schneider R, Fleisher M, Grady RW, Peterson CC, Giardina PJ; Thalassemia Clinical Research Network. Bone disease in thalassemia: a frequent and still unresolved problem. J Bone Miner Res. 2009 Mar;24(3):543-57. PubMed PMID: 18505376; PubMed Central PMCID: PMC3276604.
Bishop N, Braillon P, Burnham J, Cimaz R, Davies J, Fewtrell M, Hogler W, Kennedy K, Mäkitie O, Mughal Z, Shaw N, Vogiatzi M, Ward K, Bianchi ML. Dual-energy X-ray aborptiometry assessment in children and adolescents with diseases that may affect the skeleton: the 2007 ISCD Pediatric Official Positions. J Clin Densitom. 2008 Jan-Mar;11(1):29-42. PubMed PMID: 18442751.
Diaz A, Bhandari S, Sison C, Vogiatzi M. Characteristics of children with premature pubarche in the new york metropolitan area. Horm Res. 2008;70(3):150-4. Epub 2008 Jul 29. PubMed PMID: 18663315.
Zhou P, Ten S, Sinha S, Ramchandani N, Vogiatzi M, Maclaren N. Insulin receptor autoimmunity and insulin resistance. J Pediatr Endocrinol Metab. 2008 Apr;21(4):369-75. PubMed PMID: 18556968.
Ten S, Bhangoo A, Ramchandani N, Mueller C, Vogiatzi M, New M, Lesser M, Maclaren N. Resting energy expenditure in insulin resistance falls with decompensation of insulin secretion in obese children. J Pediatr Endocrinol
Metab. 2008 Apr;21(4):359-67. PubMed PMID: 18556967.
S. Ten, A. Bhangoo, N. Ramchandani, C. Mueller, M. Vogiatzi, M. New, M. Lesser, N. MacLaren. Characterization of insulin resistance syndrome in children and young adults. When to screen for prediabetes? J Pediatric Endocrinology 2007 Sep;20(9):989-99.
P. Zhou, S. Ten, S. Sinha, N. Ramchandani, M.G. Vogiatzi and N. Maclaren. Insulin receptor autoimmunity and insulin resistance. Journal of Pediatric Endocrinology; in press.
A. Diaz, M.G. Vogiatzi, M.M. Sanz, and J. German. Evaluation of short stature, carbohydrate metabolism, and other endocrinopathies in Bloom#146;s syndrome. Hormone Research 2006; 66(3): 111-117.
B. Ergun-Longmire, K. Lin-Su, A.M. Dunn, L. Chan, K. Ham, C. Sison, J. Stavola and M.G. Vogiatzi. Effects of Protease Inhibitors on Glucose Tolerance, Lipid Metabolism and Body Composition in HIV-Infected Children. Endocrine Practice 2006, 12(5): 514-521.
M.G. Vogiatzi, E.A. Maclin, E.B. Fung, E. Vichinsky, N. Oliveri, J. Kwiatkowski, A. Cohen, E. Neufield and P.J. Giardina for the Thalassemia Clinical Research Network. Prevalence of fractures among the thalassemia syndromes in North America. Bone, 2006; 38: 571-575.
M.G. Vogiatzi, K.A. Autio, J.E. Mait, R. Schneider, P.J. Giardina. Low bone mineral density in adolescents with thalassemia. Annals of the New York Academy of Science; Cooley#146;s Anemia 8th symposium; 2005; 1054: 462-466.
M.G. Vogiatzi, I. Chaikhoutdinov, S. Rivella, S.B. Doty, E.R. Myers and A.L. Boskey. Bone abnormalities in a new thalassemia mouse model resemble those seen in humans with thalassemia. International Conferences on the Chemistry and Biology of Mineralized Tissues, U Toronto Press, editors J. Sodek and W. Landis, 2005; 188-191.
K. Lin-Su, M.G. Vogiatzi, I. Marshall, M.D. Harbison, B. Betensky, S. Tansil, M.I. New. Treatment with growth hormone and LHRH analogue improves final adult height in children with congenital adrenal hyperplasia. Journal of Clinical Endocrinology and Metabolism; 2005; 90: 3318-3325.
S.R. Rose, M.G. Vogiatzi and K.C. Copeland. A general pediatric approach to evaluating a short child. Pediatrics in Review (PREP); 2005; 26 (11): 410-420
M.G. Vogiatzi, K.A. Autio, R. Schneider, P.J. Giardina. Low bone mass in prepubertal children with Thalassemia major: Insights in the pathogenesis of low bone mass in Thalassemia. Journal of Pediatric Endocrinology and Metabolism 2004; 17: 1415-1421
Lin-Su, K., Betensky, B., Vogiatzi, M., and New, M.I.: Is there a case for growth hormone treatment in congenital adrenal hyperplasia? International Growth Monitor, 2003; 13(3):2-5.
Vogiatzi, M.G.: Growth failure associated with skeletal disorders. endotext.com, 2003; chapter 2
Marshall, I., Ugrasbul, F., Manginello, F., Wajnrajch, M.P., New, M.I., Shackleton, C.H.L., Vogiatzi, M.G..: Congenital hypopituitarism as a cause of undetectable estriol levels in the maternal triple-marker screen. Journal of Clinical Endocrinology and Metabolism, 2003; 99:4144-4148.
Lin-Su, K., Vogiatzi, M.G., New, M.I.: Body mass index and age at menarche in an adolescent clinic population. Clinical Pediatrics, 2002; 41:501-507.
Cabrera, M.S., Vogiatzi, M.G., Harbison, M.D., and New, M.I.: Long term outcome in adult males with classical congenital adrenal hyperplasia. Journal of Clinical Endocrinology and Metabolism, 2001, 86:3070-3078.
Quintos, J.B., Vogiatzi, M.G., Harbison, M.D., and New, M.I.: Growth hormone therapy alone or in combination with GnRH analogue therapy to improve the height deficit in children with congenital adrenal hyperplasia. Journal of Clinical Endocrinology and Metabolism, 2001; 86:1511-1517.
Vogiatzi, M.G. and New, M.I.: "Differential diagnosis and therapeutic options for ambiguous genitalia." Current Opinion in Endocrinology and Diabetes, 1998, 5: 3-10
Vogiatzi, M.G. and Copeland, K.C.: "The child with short stature." Pediatrics in Review (PREP), 1998, 19(3):92-99
Vogiatzi, M.G., Beckett, P., Nair, S., and Copeland, K.C.: "Failure of insulin to stimulate protein synthesis in children with insulin dependent diabetes mellitus." Journal of Clinical Endocrinology and Metabolism, 1997, 82: 4083-4087
Vogiatzi, M.G. and Kirkland, J.L.: "Frequency and necessity of thyroid function tests in neonates and children with congenital hypothyroidism." Pediatrics, 1997; 100(3), electronic pages
Vogiatzi, M.G., Boeck, M., Vlachopapadopoulou, E., El-Rashidy, R., and New, M.I.: "Dehydroepiandrosterone in morbidly obese adolescents: Effects on weight, body composition, lipids adn insulin resistance." Metabolism: Clinical and Experimental, 1996; 45(8): 1011-1015
Vogiatzi, M.G., Gunn, S., Sherman, L.D., and Copeland, K.C.: "Gastrointestinal Symptoms and Diabetes Mellitus in Children and Adolescents." Clinical Pediatrics, 1996; 35(7): 343-347
Honors and Awards
Voted one of New York's Best Doctors, 2014
Clinical Expertise
Irregular Menstrual Cycle
Bone and Mineral Metabolism
Short Stature
Growth Disorder
Disorder of Adrenal Gland
Pubertal Disorders
Thyroid Disorder
Childhood Obesity
Diabetes
Metabolic Bone Disease
Congenital Adrenal Hyperplasia
Rickets
Thalassemia
Pediatric Osteoporosis
Contact Info
505 East 70th Street
Helmsley Tower, 3rd Floor
Appointments
Associate Professor of Clinical Pediatrics
Weill Cornell Medical College
Harold and Percy Uris Associate Professor of Pediatric Endocrinology and Metabolism
Weill Cornell Medical College
Associate Attending Pediatrician
NewYork-Presbyterian Hospital
Board Certifications
Pediatrics
Pediatric Endocrinology
Education
M.D., Aristotle University of Thessaloniki Faculty of Medicine (Greece), 1987