Kaleb Yohay, M.D.
Child Neurology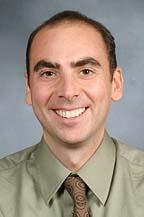 Dr. Kaleb Yohay is Director of the Comprehensive Neurofibromatosis Clinic at NewYork-Presbyterian Hospital/Weill Cornell Medical Center. He also serves as an Attending Physician in Neurology and Pediatrics at NewYork-Presbyterian Hospital/Weill Cornell Medical Center and an Assistant Professor in the Division of Child Neurology at Weill Cornell Medical Center. He is board certified in Neurology with special qualification in Child Neurology.

After receiving his undergraduate degree (B.A.) from Wesleyan University, Dr. Yohay entered the University of Vermont College of Medicine, where he completed his medical degree (M.D.). He went on to complete his Pediatric residency training at Johns Hopkins University, after which he joined the faculty at Johns Hopkins as an Instructor and, subsequently, as Assistant Professor in the Departments of Neurology and Pediatrics. He remained at The Johns Hopkins Hospital/Johns Hopkins University from 2004-2006, also serving as Co-Director of The Johns Hopkins Hospital Comprehensive Neurofibromatosis Center.

Dr. Yohay's clinical interests include pediatric neuro-oncology and neurofibromatosis.