John Boockvar, M.D.
Neurological Surgery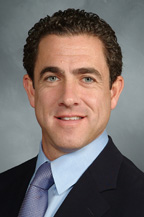 I am a fourth generation physician who understands that physician availability and excellent bedside manner are extremely important to helping my patients heal from their disease. I strive to provide my patients with the best level of care, at an affordable cost. I understand that in this difficult time in health care, stress levels are extremely high in our patient population. I will do everything possible to help ensure that my patient's experience includes the best level of surgical care, using the most modern technological approach. Equally as important, I will do all I can to help my patient and their family to navigate the pre and post operative course with empathy and support to aide in the healing process.

DR. BOOCKVAR SEES PATIENTS AT:
1305 York Avenue (at 70th Street)
Brain and Spine Center, 9th Floor
New York, NY 10065
John Boockvar, MD, is Professor of Neurological Surgery and Neuroscience at Weill Cornell Medical College/New York Presbyterian Hospital. He is a board certified adult neurosurgeon. Dr. Boockvar received a B.A. and graduated Cum Laude from the University of Pennsylvania. Like three generations of doctors before him, Dr. Boockvar received an M.D. from SUNY Brooklyn-Downstate Medical Center where he graduated Summa Cum Laude with Distinction in Research and was medical school class valedictorian. Dr. Boockvar did his surgical internship and neurosurgical residency at the Hospital of the University of Pennsylvania. Dr. Boockvar did specialized NIH/National Cancer Institute supported fellowship training in Neuro-oncology (Brain and Spinal Tumors) at the University of Pennsylvania Cancer Center. Dr. Boockvar has surgical expertise in treating brain and spinal disorders using miminally invasive techniques.

Dr. Boockvar's surgical focus is in benign and malignant brain and spinal tumors, skull base and endoscopic pituitary surgery, peripheral nerve tumors, minimally invasive spinal surgery and complex spinal disorders. Dr. Boockvar performs minimally invasive brain and spinal neurosurgery.
Dr. Boockvar currently is Co-Director of the Brain and Spinal Tumor Program at Weill Cornell Medical College and is Co-Director of Surgical Neurooncology at Weill Cornell. Dr. Boockvar heads the Brain Tumor and Stem Cell Research Laboratory and directs the institution's Brain Tumor Research Group. Dr. Boockvar's laboratory interests have focused on studying brain tumor formation and brain tumor and stem cell survival. Dr. Boockvar has a particular interest in improving how drugs are delivered to the brain and spinal cord. Dr. Boockvar's laboratory is funded by the National Cancer Institute. Dr. Boockvar served as Editor-in-Chief of the journal Current Stem Cell Research and Therapy and is an editorial board member of the Journal of Neuro-Oncology, Journal of Neurosurgery, and Recent Patents on Anti-Cancer Drug Discovery. He is an ad-hoc reviewer for Neurosurgery, Brain Research and Human Gene Therapy. He is a member of the Executive Committee (2009-current) of the Joint Section of Brain Tumors of the American Association of Neurological Surgeons and Congress of Neurological Surgeons and was recently appointed to the Editorial Board of the Journal of Neurooncology. He also serves as a Scientific Program Committee member for the Society of Neurooncology. Dr. Boockvar was recently selected to review for the Study Section NSD-A of the National Institute of Health because of his expertise in brain and spinal cancer and in stem cell biology. Dr. Boockvar is the principal investigator of several new exciting clinical trials using super selective intraarterial infusion techniques for the delivery of novel therapeutics such as Temodar, Avastin or Cetuximab for the treatment of malignant brain cancer. He recently was given approval by the FDA to start a novel clinical trial for patients with Acoustic Schwannoma (vestibular schwannoma). For more information on these trials please visit ClinicalTrials.Gov or call 212-746-1996 or email Dr. Boockvar jab2029@nyp.org.

Dr. Boockvar was chosen by the Pituitary Network Association for a featured Spotlight in their Newsletter Publication for his Lifetime Contribution to the treatment of Pituitary and Anterior Skull Base disorders of the brain. He was also chosen by Voices Against Brain Cancer to recieve the Gary Lichtenstein Humanitarian Award at the 2013 VABC Gala for his commitment to the treatment of brain cancer. Dr. Boockvar recently published the largest series to date on minimally invasive microdiscectomy for lumbar herniated discs. For this reference go to http://thejns.org/doi/pdf/10.3171/2009.12.SPINE08843. Click on the publications tab above to see more publications.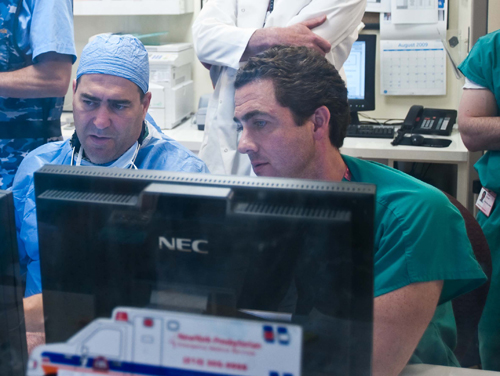 Dr. Boockvar has been highlighted in multiple newspapers (New York Times, Daily News, Wall Street Journal, Crain's) and on television (ABC, CNN, Fox News, CNBC, MSNBC, Dr. Oz show) for his treatment of brain and spinal tumors and for his minimally invasive surgical approaches to the brain and spine. Dr. Boockvar has published multiple articles on the subjects of brain and spinal neurosurgery. Dr. Boockvar has been chosen as one of America's Top Doctors (2009-current), America's Top Surgeons (2009-current) and as a Top Doctor in the New York Metro Area (2011-2012) and again this year in 2013. Most recently he was seen in the New York Times, on CNBC and CBS Evening News for his work on a novel treatment for brain tumors using Super Selective Delivery of Targeted Therapies. On November 9, 2010, the anniversary issue of the New York Times Science Times asked science reporters and top researchers to provide their watch list for noteworthy advances in 2011 and to identify which "fields are hot". This list included Dr. Boockvar and the studies he is conducting for people with Glioblastoma Multiforme. Dr. Boockvar was most recently seen on Dr. Oz in a special segment on Brain Cancer (see episode at http://www.doctoroz.com/videos/your-headache-cancer-pt-1 and http://www.doctoroz.com/videos/your-headache-cancer-pt-2). Becker's Orthopedic Magazine recently selected Dr. Boockvar as one of the nation's top 20 surgeons for spinal oncology.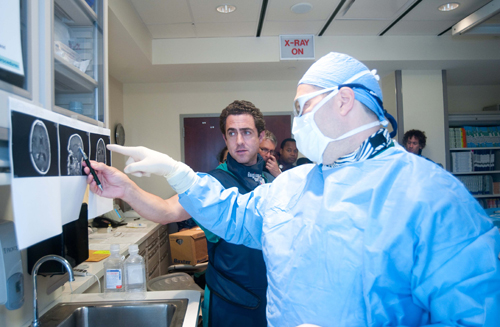 Dr. Boockvar's father, grandfather and great-grandfather were all physicians, so he understands the importance of the physician-patient relationship. He has been recognized for the exceptional quality of care that he provides to his patients. He was awarded the 2009 Platinum Service Excellence Award for outstanding customer service to his patients. In addition, he was awarded the 2009 Employee of the Year Award for the Department of Neurosurgery. He currently sits on the Quality Assurance Committee and the Patient Safety Committee for New York Presbyterian Hospital/Weill Cornell Medical Center as well as the Institutional Medical Malpractice Claims Committee. In addition, he was the faculty "Superchampion" of the EPIC optimization committee to enhance the electronic medical record (EMR) at New York Presbyterian/Weill Cornell Medical Center.
Each year Dr. Boockvar hosts the Brain Tumor Biotech Summit in June at Weill Cornell. This is an interactive symposium designed to bring together leading cancer researchers and the investment community to facilitate better treatments for patients with brain tumors. Dr. Boockvar and the event was later featured on CNBC with Franklin Berger and Representative Patrick Kennedy. Dr. Boockvar was recently featured in Forbes Emerging Tech Report as "Brain Cancer's Worst Enemy". For more information on the Biotech Summit please visit weillcornellbrainandspine.org or www.braintumorbiotechsummit.org.
If you would like to make an appointment with Dr. Boockvar, please call 212-746-1996 or Request an appointment using our online form.
Nurse Practitioner: Ashley Ray, MSN, FNP-BC
Administrative Coordinator: Chasady Rodriquez
Clinical Practice Coordinator: Regina Foskey
Clinical Practice Coordinator: Patricia Corporan
Surgical Coordinator: Jenena Wiltshire
For more information about our Brain Tumor Center, please visit us at Brain Tumor Center.
For more information about making an appointment, including the forms you'll need to fill out in advance, visit our Patient Guide.
For more information on John A. Boockvar, M.D., please visit the following sites:
The Dr. Oz Show "Is Your Headache Cancer? Part 1"
The Dr. Oz Show "Is Your Headache Cancer? Part 2"
US News and World Report "New York Metro Top Doctor"
JFK Medical Center Conference Speaker "Super Selective Intra Arterial Infusion"
CNBC's Squawk Box "State of Funding for Brain Tumor Research"
NY 1 "Brain Tumor Patient's Success Story Helps Gain Support for New Treatment"
YouTube Mastertape of Dr. Boockvar
Beckers Spine Review "22 Spine Surgeon Leaders of Spinal Oncology Programs"
Forbes / Wolfe Emerging Tech Report "Brain Cancer's Worst Enemy"
New York Times Article "Breaching a Barrier to Flight Brain Cancer
In The News - Special (Recurrent Glioblastomas)
Brain Tumor Research Laboratory
Injured Window Washer Has Operation on Spine (see also the followup article, Window Washer Who Survived 47-Story Plunge Now Walks for Charity
Cancer Stem Cells May Be Cause Of Brain Tumors
2006NREF/AANS PinnaclePartners Young Clinician Investigator